Arista Optics Modules and Cables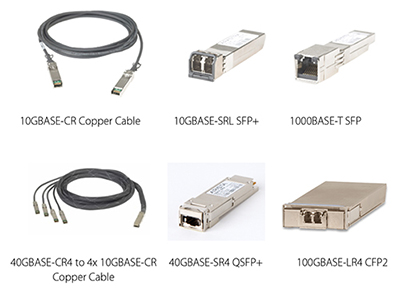 Arista Products
Arista 100 Gigabit Ethernet CFP2 Optics
100GBASE-XSR10 CFP2 Optics Module, up to 300m over OM3 MMF or 400m over OM4 MMF
#CFP2-100G-XSR10
Contact us for Pricing!
100GBASE-LR4 CFP2 Optics Module, up to 10km over duplex SMF
#CFP2-100G-LR4
Contact us for Pricing!
100GBASE-ER4 CFP2 Optics Module, up to 40km over duplex SMF
#CFP2-100G-ER4
Contact us for Pricing!
Click here to jump to more pricing!
Overview:
The Arista Optical Modules and Cables offer customers a wide variety of high-density and low-power 100 Gigabit, 40 Gigabit, 10 Gigabit, 1 Gigabit, and 100 Megabit Ethernet connectivity options over fiber or copper media.
To accommodate an ever increasing spectrum of applications Arista offers a wide choice of CFP2, Quad Small Form-Factor Pluggable (QSFP+) and Small Form-Factor Pluggable (SFP) transceiver types that ensures the advantages of open standards, power efficiency and the broadest range of media types are offered. Each module is optimized for different media and reach (ranging from 0.5 meters to 80 kilometers). In addition, the SFP+ ports also support three Gigabit Ethernet SFP transceiver types for single-mode fiber, multi-mode fiber, and Cat-5 copper.
Integrated optics on some products deliver cost effective solutions that are optimized for a choice of interface speed and density in an all-in-one MXP (multi-speed port) interface. The MXP interfaces present standard fiber interfaces and are fully compliant to the relevant IEEE specifications ensuring multi-vendor interoperability as well as the benefits of extended reach and increased reliability.
Key Features
Deployment flexibility of 100GbE, 40GbE, 10GbE or 1GbE modules
Smallest and lowest power 10GbE optic module form factor
Hot swappable to maximize uptime and simplify serviceability
SFP+ Optical interoperability with 10Gigabit XFP, X2 and XENPAK pluggable form factors
QSFP+ Optical interoperability with 40Gigabit CFP and QSFP+ pluggable form factors
CFP2 Optical interoperability with 100Gigabit CFP, CXP and CPAK pluggable form factors
Flexibility of media and interface choice on a port-by-port basis

Support for 10Gigabit DWDM to provide high-capacity bandwidth across a long-haul optical fiber network
Robust design for enhanced reliability
QSFP+ Universal transceiver for 40G operations over duplex multi-mode and single-mode fiber. Interoperable with IEEE 40G LR4 and LRL4 for easier migrations from 10G to 40G and to single mode fiber
Parallel QSFP+ transceivers for both multi-mode and single-mode enable flexible 4x10G options for gradual migration from 10G to 40G
Features:
Physical Characteristics

CFP2 HxWxD: 12.4 x 41.5 x 107.5 mm
QSFP+ HxWxD: 12.7 x 18.4 x 71.0mm
SFP+ HxWxD: 8.55 x 13.7 x 56.5mm

Environmental Characteristics

Operating Temperature: 0 to 40C**
Storage Temperature: -40 to 70C
Relative Humidity: 5 to 95%
Operating Altitude: 0-10,000 ft

Power Requirements

The maximum power consumption for Arista SFP and SFP+ modules (except for ER and DWDM) is less than 1 Watt.
The maximum power consumption for Arista QSFP+ 40GBASE-SR4, XSR4, PLRL4, LRL4; SFP+ ER, ZR and DWDM modules is less than 1.5 Watts.
The maximum power consumption for Arista 40G-UNIV, 40GBASE-LR4 and PLR4 modules is less than 3.5 Watts.
The maximum power consumption for Arista CFP2 100GBASE-LR4 is less than 12 Watts.

Safety

Laser Class 1 21CFR-1040.10 LN#50
Laser Class 1 IEC60825-1

IEEE Compliance

802.3ab 1000BASE-T
802.3z 1000BASE-X
802.3ae 10 Gigabit Ethernet
802.3ba 40 and 100 Gigabit Ethernet
QSFP+ MSA SFF-8436
SFP+ MSA SFF-8431 and SFF-8461
CFP MSA

Standards Compliance

GR-20-CORE
GR-326-CORE
GR-1435-CORE
ROHS-6
- All cables and cable assemblies used must be compliant with the standards specified in the standards section
- Minimum cabling distance for -LR, -SR, -SX, -LX modules is 2m according to IEEE standards
** Operating temperature for DWDM optics is 0 - 35C
*** Links beyond 30 km over single-mode fiber are considered engineered links as per IEEE 802.3ae.
Specifications:
10 Gigabit Ethernet SFP+ Specifications
PHY Type
Connector Type
Wavelength (nm)
Cable Type
Core Size (um)
Modal Bandwidth (MHz*Km)
Tx power (dBm)
Rx power (dBm)
Operating Distance
10GBASE-SR
LC
850
MMF
62.5
50.0
50.0
50.0
50.0
200
400
500
2000 (OM3)
4700 (OM4)
-7.3 to -1.0
-9.9 to -1.0
33m
66m
82m
300m
400m
10GBASE-SRL
LC
850
MMF
62.5
50.0
50.0
50.0
50.0
200
400
500
2000 (OM3)
4700 (OM4)
-8.0 to -1.0
-9.9 to -1.0
11m
22m
27m
100m
150m
10GBASE-LRL
LC
1310
SMF
G.652
-
-8.2 to 0.5
-12.5 to 0.5
1km
10GBASE-LR
LC
1310
SMF
G.652
-
-8.2 to 0.5
-14.4 to 0.5
10km
10GBASE-ER
LC
1550
SMF
G.652
-
-4.7 to 4.0
-15.0 to -1.0
40km***
10GBASE-ZR
LC
1550
SMF
G.652
-
-1.0 to 4.0
-23.0 to -7.0
80km
10GBASEDWDM
LC
1560.61 to 1530.33
SMF
G.652
-
-4..7 to 4.0
-15.0 to -1.0
40km
10GBASEDWDM
LC
1560.61 to 1529.55
SMF
G.652
-
-1.0 to 4.0
-23.0 to -7.0
80km
10 Gigabit Ethernet Cable Specifications
PHY Type
Connector Type
Wavelength (nm)
Cable Type
Core Size (um)
Modal Bandwidth (MHz*Km)
Operating Distance
10GBASE-CR
SFP+ (Both ends)
-
Twinax Copper
-
-
0.5m to 7m
10GBASE-CR
QSFP+ to 4 x SFP+
-
Twinax Copper
-
-
0.5m to 5m
10G-AOC
SFP+ (Both ends)
850nm
MMF
-
-
3m to 30m
Gigabit Ethernet SFP Specifications
PHY Type
Connector Type
Wavelength (nm)
Cable Type
Core Size (um)
Modal Bandwidth (MHz*Km)
Tx power (dBm)
Rx power (dBm)
Operating Distance
1000BASE-SX
LC
850
MMF
62.5
62.5
50.0
50.0
160
200
400
500
-9.5 to -4.0
-17
220m
275m
500m
550m
1000BASE-LX
LC
850
MMF*
62.5
50.0
50.0
500
400
500
-9.5 to -3.0
-19
550m
550m
550m
LC
1310
SMF
G.652
-
-9.5 to -3.0
-19
10km
1000BASE-T
RJ-45
-
Cat5 (UTP)
-
-
-
-
100m
40 Gigabit Ethernet QSFP+ Optic Specifications
PHY Type
Connector Type
Wavelength (nm)
Cable Type
Core Size (um)
Modal Bandwidth (MHz*Km)
Tx power (dBm)
Rx power (dBm)
Operating Distance
40GBASE-SR4
MPO
850
OM3
OM4
50.0
50.0
2000 (OM3)
4700 (OM4)
-7.6 to -1/lane
-9.5 to +2.4/lane
100m
150m
40GBASEXSR4
MPO
850
OM3
OM4
50.0
50.0
2000 (OM3)
4700 (OM4)
-7.5 to +1/lane
-9.9 to +2.4/lane
300m
400m
40G-UNIV
LC
1270
1290
1310
1330
OM3
OM4
SMF
50.0
50.0
G.652
2000 (OM3)
4700 (OM4)
-
-7 to +3.5*/lane
-10.0 to +3.5/lane
150m
150m
500m
40GBASE-LR4
LC
1270
1290
1310
1330
SMF
G.652
-
-7 to +2.3/lane
-13.7 to +2.3/lane
10km
40G-PLRL4
MPO
SMF
G.652
-
-8.2 to +0.5/lane
-12.5 to +0.5/lane
1km
40G-LRL4
LC
1270
1290
1310
1330
SMF
G.652
-
-7 to +2.3/lane
-11.5 to +2.3/lane
1km
40G-PLR4
MPO
SMF
G.652
-
-8.2 to +0.5/lane
-14.4 to +0.5/lane
10km
40 Gigabit Ethernet QSFP+ Cable Specifications
PHY Type
Connector Type
Wavelength (nm)
Cable Type
Core Size (um)
Modal Bandwidth (MHz*Km)
Operating Distance
40GBASE-CR4
QSFP+ to QSFP+
-
Twinax Copper
-
-
0.5m to 7m
40G-AOC
QSFP+ to QSFP+
850
MMF
-
-
3m to 100m
100 Gigabit Ethernet CFP2 Optic Specifications
PHY Type
Connector Type
Wavelength (nm)
Cable Type
Core Size (um)
Modal Bandwidth (MHz*Km)
Tx power (dBm)
Rx power (dBm)
Operating Distance
100GBASELR4
LC
1295.56
1300.05
1304.58
1309.14
SMF
G.652
-
-4.3 to +4.5/lane
-10.6 to +4.5/lane
10km
* Max Tx Power with Single-mode fiber is compatible with 40GBASE-LR4 and will not overload the receiver