Arista Cloud Networking Solutions
The attributes of Cloud Networking:
Scalable: Cloud Networks scale with Spline™ and leaf/spine topologies from hundreds to hundreds of thousands of nodes and provide a non-blocking fabric across the entire Cloud.
Low Latency: Latency is key to improving application performance. The network needs to provide ultra-low latency in large-scale environments.
Open APIs: The Cloud must provide predictable and reliable performance for a large number services, including HPC applications, web, video and data.
Programmable Management: Cloud Networks cross all traditional boundaries between servers, enterprise networks, and service provider networks. They need to be managed in a hybrid environment, often with customizations that are unique to that individual deployment. The management of the network needs to be extensible and customizable to allow such optimizations.
Self-Healing Resiliency: With larger scale, networks become much more critical and faults need to be contained and healed automatically.
Arista Networks offers a unique Cloud Networking Platform that meet the above requirements. Please see our Products & Services sections for more information.
Featured Video: Arista Software Driven Cloud Networking Overview
Cloud Networking Platform
Servers, storage and networks form the anchors of today's IT infrastructure. Companies around the world are constantly seeking to enhance this infrastructure. With 10GbE connectivity the new infrastructure requirements are distinctive and differ in many ways from the needs of traditional enterprise IT needs. The new environments often require unique compute density, power density and ultra low latency. Such hyper-scale computing environments – where deployments are measured by up to millions of servers, storage and networking equipment – are changing the way they approach IT to drive growth and decrease operational expenses.
Routing:
The foundation of Arista's Routing solutions is to apply the cloud principles of "scale-out, simplify, software-driven networking" to Routing. Arista's Routing solutions allow customers to leverage Arista's 7500R Universal spine platforms powered by EOS for roles that required high performance internet scale routing, with high port density, low power, programmability and automation, which traditional router platforms are unable to offer. Leveraging innovations in platform and EOS to enable features and scale not natively available in merchant silicon, these solutions offer a unique approach to transform legacy routing architectures.
Featured Video: Arista Routing Architecture Transformation and Use Cases
Key Highlights of Arista's Routing solutions:
Support for 1M+ Routes with Arista FlexRoute engine and EOS NetDB on 7500R platforms with best-in-class route convergence
Support for various tunneling technologies including VxLAN, MPLS, GRE, MPLSoGRE, IPinIP and programmable traffic steering
MPLS - LDP, ISIS Segment Routing, BGP LU
EOS NetDB provides real-time state streaming and analytics for live monitoring and historic forensic troubleshooting
Cloud Connect Solutions:
Arista's Cloud Connect solution allows customers to leverage Arista's spine switching platforms built for software driven cloud networking within the data center for use between data centers as well. Leveraging Arista's foundation in merchant-silicon platforms combined with open and programmable EOS, this solution provides CapEx and OpEx savings to our customers by simplifying and streamlining traditional interconnect approaches.
Featured Video: Arista Networks Cloud Connect Solutions
The Cloud Connect solutions is comprised of the following components: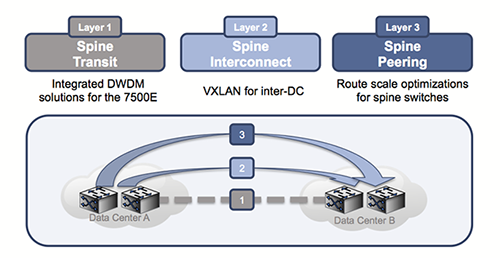 Layer 1 - Spine Transit: A long haul Coherent DWDM 6-port 100G line card with integrated MACsec encryption for the Arista 7500E Spine switches.
Layer 2 - Spine Interconnect: Production-ready standards-based VXLAN solutions for Layer 2 service extension between sites.
Layer 3 - Spine Peering: An Arista EOS approach for supporting full Internet routes in cost-effective merchant silicon spine platforms.