Arista 7050Q

Click here to jump to more pricing!
Overview:
The Arista 7050 series 40G switches offer wire speed layer 2/3/4 performance with 16 ports of 40GbE or 64 ports of 10GbE in a compact 1RU chassis. The 7050Q-16 switch offers 16 QSFP+ interfaces and an additional 8 SFP+ ports shared with 2 QSFP+ ports for flexible support of 10GbE short and long reach interfaces.
Each QSFP+ supports wire speed 40GbE and can also operate as four independent 10GbE ports to provide a total of 64 10GbE ports. The Arista 7050Q offers latency of 800 ns in cut-through mode, and a shared 9 MB packet buffer pool that is allocated dynamically to ports that are congested. With typical power consumption of less than 3 watts per 10G port, the 7050Q 40G switches provide industry leading power efficiency for the data center. An optional built-in SSD supports advanced logging, data captures and other enhanced services directly on the switch.
The 7050Q switch shares a common architecture with other members of the Arista 7050 Series providing a consistent level of performance, scale and resilience. The 7050Q delivers line rate 40GbE performance enabling scale out of Leaf-Spine designs with 40GbE links between the tiers and direct connection to 40Gb servers and storage devices. The Arista 7050Q-16 provides scalability improvements in dense leaf and spine architectures with support for 40GbE for link aggregation and a reduction in link serialization delays.
Arista EOS
The Arista 7050Q switches run the same Arista EOS software as all Arista products, simplifying network administration. With Arista EOS, advanced monitoring and automation capabilities such as Zero Touch Provisioning, VM Tracer and Linux based tools can be run natively on the switch.
Arista EOS is a modular switch operating system with a unique state sharing architecture that cleanly separates switch state from protocol processing and application logic. Built on top of a standard Linux kernel, all EOS processes run in their own protected memory space and exchange state through an in-memory database. This multi-process state sharing architecture provides the foundation for in-service-software updates and self-healing resiliency. Several Linux based tools can be run directly on the switch, running on a powerful dual-core x86 CPU subsystem.
Product Highlights
Performance

7050Q-16: 16x40GbE and 8x10GbE ports
1.28 terabits per second
960 million packets per second
Wire speed L2 and L3 forwarding
800ns to 850ns latency

Data Center Optimized Design

Typical power draw less than 12W per port
1+1 redundant & hot-swappable power
N+1 redundant & hot-swappable fans
Front-to-rear or rear-to-front cooling

Cloud Networking Ready

128K MAC entries
16K IPv4 Routes
32K IPv4 Host Routes
8K IPv6 Routes
8K Mroutes
9MB Dynamic Buffer Allocation

Resilient Control Plane

Dual-core x86 CPU
4GB DRAM
2GB Flash
User applications can run in a VM

Built-in Storage

Solid State Drive option
Store logs and data captures
Network boot nodes from the switch
Linux tools with no limitations

Advanced Provisioning & Monitoring

Zero Touch Provisioning (ZTP)
VM Tracer - host view
VM Tracer - auto VLANs
sFlow
Self-configure and recover from USB

Arista Extensible Operating System

Single binary image for all products
Fine-grained modularity
Stateful Fault Containment (SFC)
Stateful Fault Repair (SFR)
Access to Linux tools
Extensible platform
Benefits:
High Availability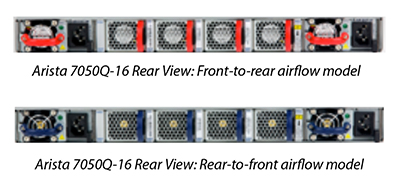 The Arista 7050 series switches were designed for high availability from both a software and hardware perspective. Key high availability features include:
1+1 hot-swappable power supplies and four N+1 hot-swap fans
Color coded PSU's and fans - common to Arista 1RU devices
Live software patching
Self healing software with Stateful Fault Repair (SFR)
Up to 16 40GbE ports per link aggregation group (LAG)
Multi-chassis LAG for active/active L2 multipathing
32-way ECMP routing for load balancing and redundancy
Dynamic Buffer Allocation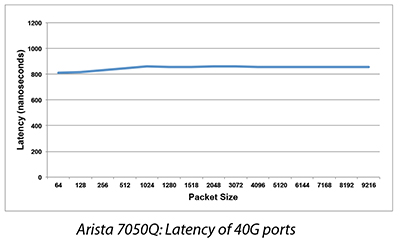 In cut-through mode, the Arista 7050 40G switches forward packets with a latency of 800 to 850 nanoseconds. Upon congestion, the packets are buffered in shared packet memory that has a total size of 9 MBytes. Unlike other architectures that have fixed per-port packet memory, the 7050 switches use Dynamic Buffer Allocation (DBA) to allocate up to 5MB of packet memory to a single port for lossless forwarding.
Provisioning Tools and Built-in Storage
The 7050 series switches offer advanced capabilities for network provisioning. With ZTP, the switch can be automatically provisioned through a centralized management system with a dynamically generated configuration and preferred boot image. A built-in 50GB SSD is available as an option from the factory. The integrated storage allows for a whole new family of applications that can be run from the network itself. This includes having the switch be a PXE boot server, store syslogs for audit and compliance right on the switch, capturing and saving data packets via tcpdump and Linux based services such as DHCP and Precision Time Protocol (PTP).
Cloud Network Scale: Up to 18,000 10GbE nodes using standardized protocols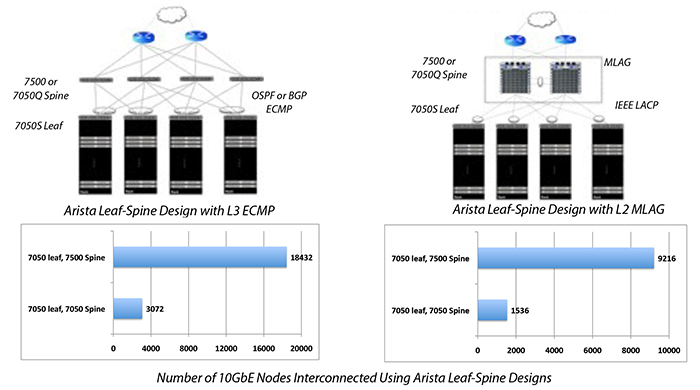 Features:
Layer 2 Features

128K L2 Forwarding Entries
802.1w Rapid Spanning Tree
802.1s Multiple Spanning Tree Protocol
Rapid Per VLAN Spanning Tree (RPVST+)
4096 VLANs
Q-in-Q
802.3ad Link Aggregation/LACP

16 ports/channel
64 groups per system

Multi-Chassis Link Aggregation (MLAG)

Uses IEEE 802.3ad LACP
32 ports per MLAG

802.1AB Link Layer Discovery Protocol
Port Mirroring (4 active mirroring sessions)
802.3x Flow Control
Jumbo Frames (9216 Bytes)
IGMP v1/v2/v3 snooping
Storm Control
Private VLANs

Layer 3 Features

16K IPv4 Routes
32K IPv4 Host Routes
8K IPv4 Multicast Routes
8K IPv6 Routes
4K IPv6 Multicast Routes
Routing Protocols: OSPF, OSPFv3, BGP, MP-BGP, IS-IS, and RIPv2
32-way Equal Cost Multipath Routing (ECMP)
BFD
Route Maps
IGMP v2/v3
PIM-SM / PIM-SSM
Anycast RP (RFC 4610)
VRRP
Virtual ARP (VARP)
vrf
uRPF

Monitoring and Provisioning

Zero Touch Provisioning (ZTP)
Advanced Event Management suite (AEM)

CLI Scheduler
Event Manager
Event Monitor
Linux tools

Optional SSD for logging and data capture
Integrated packet capture/analysis with TCPDump
RFC 3176 sFlow
Restore & configure from USB
Blue Beacon LED for system identification
Software Defined Networking (SDN)

Openflow 1.0
Arista DirectFlow
eAPI

VM Tracer Feature Set

VMware vSphere support
VM Auto Discovery
VM Adaptive Segmentation
VM Host View

Security Features

Ingress / Egress ACLs using L2, L3, L4 fields
ACL Logging and Counters
Control Plane Protection (CPP)
DHCP Relay / Snooping
MAC Security
TACACS+
RADIUS

Quality of Service (QoS) Features

Up to 8 queues per port
Strict priority queueing
802.1p based classification
Per-Priority Flow Control (PFC)
Data Center Bridging Extensions (DCBX)
802.1Qaz Enhanced Transmissions Selection (ETS)*
DSCP based classification and remarking
Policing/Shaping
Rate limiting
Explicit Congestion Notification (ECN)

Network Management

CloudVision Task-Oriented Multi-Device CLI
100/1000 Management Port
RS-232 Serial Console Port
USB Port
SNMP v1, v2, v3
Management over IPv6
Telnet and SSHv2
Syslog
AAA
Industry Standard CLI

Extensibility

Linux Tools

Bash shell access and scripting
RPM support
Custom kernel modules

Programmatic access to system state
Native KVM/QEMU support

Standards Compliance

802.1D Bridging and Spanning Tree
802.1p QOS/COS
802.1Q VLAN Tagging
802.1w Rapid Spanning Tree
802.1s Multiple Spanning Tree Protocol
802.1AB Link Layer Discovery Protocol
802.3ad Link Aggregation with LACP
802.3ab 1000BASE-T
802.3z Gigabit Ethernet
802.3ae 10 Gigabit Ethernet
802.3ba 40 Gigabit Ethernet
RFC 2460 Internet Protocol, Version 6 (IPv6) Specification
RFC 4861 Neighbor Discovery for IP Version 6 (IPv6)
RFC 4862 IPv6 Stateless Address Autoconfiguration
RFC 4443 Internet Control Message Protocol (ICMPv6) for the Internet Protocol Version 6 (IPv6) Specification

SNMP MIBs

RFC 3635 EtherLike-MIB
RFC 3418 SNMPv2-MIB
RFC 2863 IF-MIB
RFC 2864 IF-INVERTED-STACK-MIB
RFC 2096 IP-FORWARD-MIB
RFC 4363 Q-BRIDGE-MIB
RFC 4188 BRIDGE-MIB
RFC 2013 UDP-MIB
RFC 2012 TCP-MIB
RFC 2011 IP-MIB
RFC 2790 HOST-RESOURCES-MIB
RFC 3636 MAU-MIB
RMON-MIB
RMON2-MIB
HC-RMON-MIB
LLDP-MIB
LLDP-EXT-DOT1-MIB
LLDP-EXT-DOT3-MIB
ENTITY-MIB
ENTITY-SENSOR-MIB
ENTITY-STATE-MIB
ARISTA-ACL-MIB
ARISTA-QUEUE-MIB
RFC 4273 BGP4-MIB
RFC 4750 OSPF-MIB
ARISTA-CONFIG-MAN-MIB
RFC 2787 VRRPv2MIB
MSDP-MIB
PIM-MIB
IGMP-MIB
IPMROUTE-STD-MIB
SNMP Authentication Failure trap
ENTITY-SENSOR-MIB support for DOM (Digital Optical Monitoring)
User configurable custom OIDs
* Supported in a future software release
Specifications:
Table Sizes
MAC Addresses
128,000
STP Instances
64 (MST)/511 (RPVST+)
IGMP Groups
50,000
ACLs
3,000
IPv4 Hosts
32,000
IPv4 Routes - Unicast
16,000
IPv4 Routes - Multicast
8,000
IPv6 Routes - Unicast
8,000
IPv6 Routes - Multicast
4,000
ECMP
32-way
Environmental Characteristics
Operating Temperature
0 to 40C
Storage Temperature
-40C to 70C
Relative Humidity
5 to 95%
Operating Altitude
0 to 10,000 ft
Physical Characteristics
Size (WxHxD)
19" x 1.75" x 16"
(44.5 x 4.4 x 40.64 cm)
Weight
18 lbs (8.18 kg)
Power Supply Specifcations
AC
DC
Input Voltage
100-240AC
40-72V DC
Input Current
2.2-5.3A
12.8-7.1A
11.3A at -48V
Input Frequency
50/60Hz
DC
Input Connector
IEC 320-C13
AWG #16-12
Standards Compliance
EMI
FCC Part 15 Class A
ICES-003 Class A
VCCI Class A
Safety
IEC/UL/CSA/EN 60950
CE, UL, TUV Mark
Other
ROHS-6 Compliant
* Typical power consumption measured at 25C ambient with 50% load
Specifcations
7050Q-16
Ports
16 x QSFP+, 8 x SFP+
Total 40GbE Ports
16
Total 10GbE Ports
64
Total 1GbE Ports
8 (SFP/SFP+)
Throughput
1.28 Terabits/second
Packets/Second
960 Mpps
Latency
800 - 850ns (QSFP+)
800 - 1150ns (SFP+)
CPU
Dual-Core x86
System Memory
4 Gigabytes
Flash Storage Memory
2 Gigabytes
Packet Buffer Memory
9MB (Dynamic Buffer Allocation)
SSD Storage (optional)
50 Gigabytes
100/1000 Mgmt Ports
1
RS-232 Serial Ports
1 (RJ-45)
USB Ports
1
Hot-swap Power Supplies
2 (1+1 redundant)
Hot-swappable Fans
4 (N+1 redundant)
Reversible Airfow Option
Yes
Typical / Maximum Power Draw*
192W / 303W
Supported Optics and Cables
Interface Type
SFP+ ports
QSFP+ ports
40GBASE-SR4
-
100m (OM3) /150m (OM4)
40GBASE-XSR4
-
300m (OM3) /450m (OM4)
AOC-40G-Q-Q
-
3m to 100m
40GBASE-CR4
-
0.5m to 7m QSFP+ to QSFP
40G-PLRL4
-
1km (1km 4x10G LR/LRL)
40G-UNIV
150m (OM3) / 150m (OM4) 500m (SM)
40G-LRL4
-
1km
40G-PLR4
10km (10km 4x10G LR/LRL)
40GBASE-LR4
-
10km
10GBASE-CR
SFP+ to SFP: 0.5m-5m
0.5m - 5m QSFP+ to 4x SFP
10G-AOC
3m to 30m
10GBASE-SRL
100m
-
10GBASE-SR
300m
-
10GBASE-LRL
1km
-
10GBASE-LR
10km
-
10GBASE-ER
40km
-
10GBASE-ZR
80km
-
10G-DWDM
80km
-
100TX 1G SX/LX/TX
Yes
-
Arista Optional Components